With auto hail damage, your deductible is subtracted from your insurance check.
Many auto hail damage customers are confused about auto hail damage deductibles.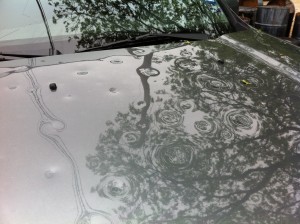 Your insurance company merely subtracts your deductible from your insurance check.  You don't have to pay anything to them up front.
As an example, when your insurance company determines that you have $2500 worth of hail damage, and you have a $500 deductible, they will write you a check for $2000.  You now have $2000 to get your hail dents removed.  You pay nothing out of pocket up front.  Now you may negotiate with the $2000 you received or have your hail repair company file for a supplement to get additional money.
Call Dent Biz with any questions concerning your hail damage.  We would be glad to help!