Dents we can't fix with Paintless Dent Removal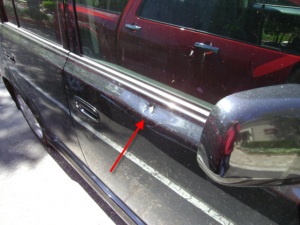 We were not able remove this dent because it is too sharp.  Please click on the picture to see a larger view.  When dents are extremely sharp, flexing the dent back to its original shape is impossible because the metal is too stretched. This particular dent is at the top of the door of a Scion xB. It looks like a large rock was a projectile and hit the door with at a high rate of speed. The center of the dent has broken the paint so badly that there is nothing but metal showing.
We actually remove dents much larger than this as long as the center is not sharp. Just as an example, if you kicked your car door we could remove your dent completely. But, if you took an ice pick and hammered its point on the side of your car door, the dent would be too sharp to remove.
Dents we ARE able to remove are usually cosmetic dents like dents caused by car doors, parking lot dents, shopping cart dents, unexplained minor dents that just show up!  You get the idea.  If your car wasn't moving when the dent occurred, most likely we can remove it.