What type of dents can we remove?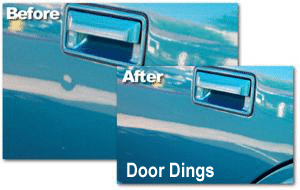 Dents we are able to remove are typically caused by car doors, shopping carts, something falls off your garage shelf, a ladder falls on your car, hail damage, and many unexplained minor dents.  There are also many minor dents we will improve but not remove completely.   These dents are typical when a gate closes on your car or someone kicks your car.
Normally the kinds of dents that are not fixable with PDR are caused while the car is moving or caused by another car that is moving.  For example, when you back your car in to the side of your garage, you will need paint and bondo most likely.  When someone backs in to your door with their bumper, most likely paint will be needed.  Please give us a call for your specific situation.