We are sorry your new car has a door ding. Technically speaking, door dings are dents caused by car doors or are caused when your car door hits something while opening it.  (wrecked car doors are not door dings)  Most door dings can be removed completely without painting or bondo.  We use metal tools to gently bend the backside of your car's sheet metal until the door ding dent is gone.  It's really no big deal.  We look at your car's door ding and assess its difficulty quickly to give you a price.  There are a some things you should consider before you go to some other company.
1. Do you want your car door painted?  You should always avoid paint!  We can help.
2. Do you want to be without your car for days?  Our process takes just a few hours.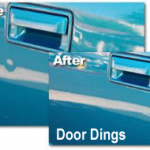 We remove small door ding dents completely.   All results are guaranteed.   If you have a small dent on your car or truck give us a call. We have removed tens of thousands of dents just like yours without expensive body work.  We remove them while you wait!